Noted Ohio State Buckeyes historian and author Jack Park threw out the first pitch to his granddaughter, our own Caroline Piatt, in the opening ceremonies of the Dublin Triad! The Triad was pushed to Sunday due to… what else? Weather! But we managed to get both games in… on Mother's Day!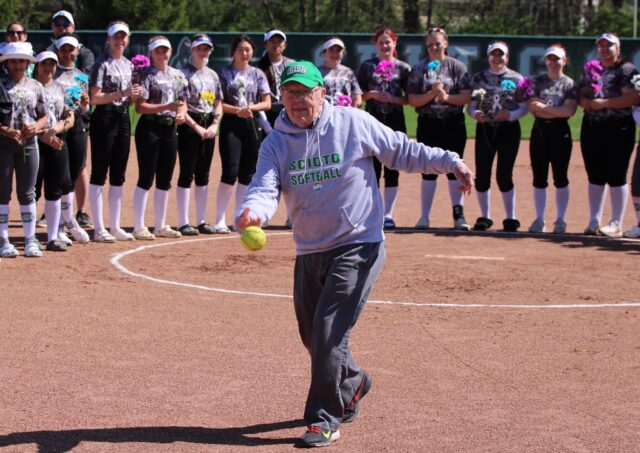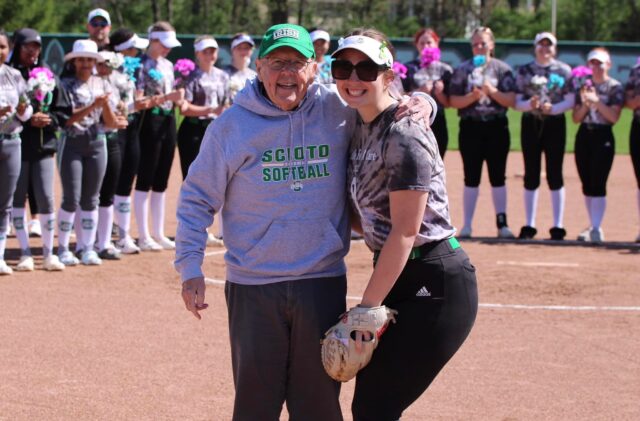 The Irish won the first game in the Triad, beating Coffman 7-2!
In the first inning, Scioto got their offense started when Madi Comstock doubled on a 1-1 count, scoring one run.
Taylor Henry started on the mound for the Irish, surrendering only two runs on three hits over seven innings, striking out four.
Palmer led things off on the rubber for the Shamrocks. She went two and two-thirds innings, allowing seven runs on eight hits and striking out one.  Miles threw four and a third innings in relief.
The Irish racked up nine hits.  Caroline Piatt, Isabella Jauregui, and Henry each racked up multiple hits for Scioto. And Piatt, inspired by grandpa, led the team with three hits in four at bats!